cPanel & Web Host Manager
Upgrade your Dedicated Server to cPanel and utilise the power of the number one choice for web administration!
cPanel and WHM 11 is the number one choice for dedicated server web hosting administration. With tools to keep your server secure, provision customer accounts, transfer accounts from server to server, deploy applications (blogs, CMS, etc) and much more, your web hosting operation will jump to light speed with cPanel and WHM 11.
* Note: Demos of cPanel and WebHost Manager are available below. Please note that some features are disabled for security purposes.
Root and Reseller Admin Panel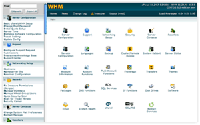 WebHost Manager (WHM)


Username: demo
Password: demo


Domain Owner Panel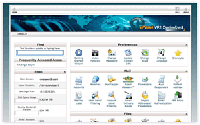 cPanel 11


Username: x3demob
Password: x3demob



cPanel & WHM Features
As a cPanel host, we're experts in deploying your cPanel server.

• Complete Server Administration Interface.
• Unlimited Domains per Server.
• Fully Brandable.
• Fully Featured Domain Owner Interface.
• Separate Server Administrator, Reseller, and Domain Owner Interfaces.
• Free Multi-Language Support.
• Free Virus Scanner.
• Free Game Servers.


cPanel/WHM Price:

cPanel fully installed and licensed on your Linux CentOS server is just £20 per month.
We can install it when you order your server or we can add it for you later. To order, please navigate here to dedicated servers page and choose a server first.