Our Technology
Cutting edge technology puts you in front of the competition.
Virtual Masters owns and operates our private data centers. By owning our data centers rather than leasing, we are able to design, build and maintain an ideal server environment. This allows us to provide our clients fast, secure and reliable performance at all times.
The Virtual Masters network has been designed to accommodate clients demanding the highest quality network performance. There is a central focus on redundancy allowing our network to rapidly self-heal failures without interruptions to connectivity. At Virtual Masters, we own our infrastructure.
100% Dell Servers

Utilising state-of-the-art technology we have built a web hosting platform that is second to none


If any server fails, another server automatically and without delay takes over that server's workload


Data is automatically stored and synchronised between two large network disk arrays for web hostings


Dual Quad Core Intel® Xeon® 3.16GHz with 2X6MB Cache


8 GB RAM


Dual 136 GB SCSI Drive (for the operating system)


RAID Mirroring (for the operating system)


Dual Power Supplies


Dual Gigabit Network Adapters

Network Gear

Redundant Fiber Entrance expandable to 1840 Gigabits per second


Multiple Redundant Gigabit Ethernet links to Data Center 1 and Data Center 2


Fully Redundant Cisco 6509 Sup720 Distribution Switches


Redundant Gigabit Ethernet links to each rack switch


Cisco 2960 48 Port 10/100 rack switches

Power System

8,000 kVA utility power feed - Expandable to 32,000 kVA


Redundant ASCO Closed Transition Bypass Isolation Transfer Switches


Multiple N+1 Generac Diesel Generators


Multiple N+1 Powerware 9395 550 kVA UPS


Liebert PDU Units


Capability to provide Tier-4 Power

Cooling

Multiple Liebert 20 and 22 Ton Upflow AC Units


Designed for addition of Air-side Economization
Security

24x7x365 manned facility


Multiple closed circuit tv security cameras, covering all entrances and datacenter space


Site entrance controlled by electronic perimeter access card system


Site remotely monitored by 3rd party security company


All entrances secured by mantraps with interlocking doors


Secure Fobs Access which are only held by named staff


Secure Fence - The building is surrounded by a 8ft perimeter fence


The data centre is monitored by cctv both externally and internally


Web Hosting Infrastructure
The following diagram represents the Virtual Masters web hosting infrastructure.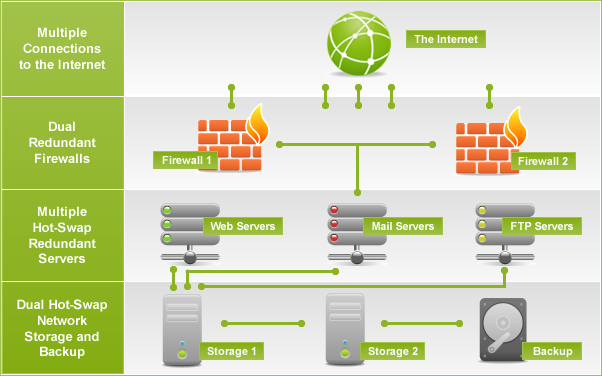 Linux and Windows Platforms
Redhat and CentOS Platforms
Redhat and CentOS are the leading provider of Linux open source software. For many years now Redhat and CentOS Linux have been the number one choice for web hosting companies, not just because of Redhat's amazing scalability but also because of its track record as the most stable operating system available in the market today.

Our systems utilise the latest Redhat server technology to allow our servers to be continually up to date with Redhat system & security patches.

Unlike many of our competitors, we run Redhat Enterprise Linux, the most stable release of Redhat Linux available and the only version that keeps completely up to date with security patches.
Windows Platform
We use Microsoft Windows Server 2008 to power our Windows shared hosting platform.

Microsoft Windows Server 2008 is the most advanced Windows Server operating system yet, designed to power the next generation of networks, applications, and Web services. With Windows Server 2008 you can develop, deliver, and manage rich user experiences and applications, provide a highly secure network infrastructure, and increase technological efficiency and value within your organization.